Englisch
Location for business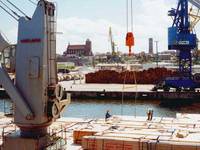 North-West Mecklenburg, the business location in the north-west of the Mecklenburg-Vorpommern federal state, is situated directly on the Baltic Sea coast. Each year, hundreds of thousands of tourists visit our region. With 1 million overnight stays per year in the Baltic resort of Boltenhagen alone, North-West Mecklenburg is a significant centre for tourism at the Baltic Sea. This administrative district also ranks among Europe's top business locations for the wood industry and the food sector respectively.
North-West Mecklenburg is located between the metropolitan regions of Hamburg and Berlin, and likewise between the triangle of cities formed by the Hanseatic City of Lübeck, the federal state capital, Schwerin, and the Hanseatic City of Rostock; it thus offers attractive commercial properties for companies wishing to secure this special location for transport connections as a competitive advantage for themselves.
The Hanseatic Town of Wismar, with its historic urban core being among the best-preserved in Germany and northern Europe as a whole (designated a UNESCO world cultural heritage site since 2002) is the district capital of North-West Mecklenburg. Wismar pulsates with vitality, with an appealing combination of what is old and what is modern. Young people and students at the University of Applied Sciences, Technology, Business and Design in Wismar invigorate the town's streets with their energy. Wismar's modern sea port is the logistical alternative in north Germany, because of its links to the railway network and to Germany's A14, A20 and A24 motorways. The port serves as a bridge to Scandinavia, the Baltic countries and Russia.
back