Englisch
District assembly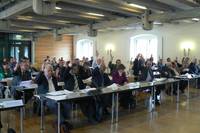 The district assembly is the elected representative body for the citizens of the administrative district of North-West Mecklenburg; it is also the highest-level organisational unit for formulating the district's will and for deciding upon formal resolutions. Within the district authority's own remit of operations, the assembly is competent to deal with all important matters and to monitor the administration's activities. This separate remit includes the tasks required of the administrative district, either as local obligatory tasks (e.g. in aid projects for youth and for certain other specified social groups, as well as in waste-management and in local public transport) or as a voluntary task (e.g. in the district's agricultural museum or the district's music school).
It convenes alternately at the armoury building in the district capital, Wismar, and at the administrative facility in Grevesmühlen. It is a point of principle that the sessions are open to the public. Location, time and agenda of the district assembly meetings are publicised on the administrative district's homepage, are displayed on the district administration's notice-boards in Wismar and Grevesmühlen, and can be viewed in the citizens' information system. The public can only be excluded if this is required by overriding considerations of public well-being or by individuals' justified interests.
Enquiries can be directed to the district assembly or to the administrative head of the district, or respectively proposals and inputs/suggestions can be submitted, on matters of concern to the administrative district; this is done in the context of residents' question time, at the start of each district assembly session; such matters can be raised by residents of the district assembly's constituency aged 14 or over, and also by natural persons and juristic persons and associations of persons that possess or use real estate/land in the assembly's constituency area, or operate a business enterprise in it.
back