Englisch
Our coat of arms - newly ours since 19 April 2012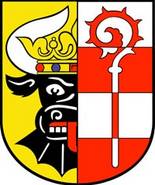 "Split; at the front, on a gold background, a bull's black gold-crowned head in half-view, looking towards the viewer, with an open red mouth, silver teeth, a protruding red tongue, the fur on his neck forming spikes, and with silver horns; at the back, in a field of silver and red divided into three parts, a shepherd's crook in alternating colours" - that is the description in the formal document accompanying the new coat of arms for the administrative district of North-West Mecklenburg.
On 15 February 2012 in the Grevesmühlen Malt Factory, this was formally handed over by Interior Minister, Lorenz Caffier, to the administrative head of the district, Birgit Hesse. The designer of the coat of arms is Manfred Gerth from Ribnitz-Damgarten.
On 19 April 2012, the district assembly (Kreistag) adopted a corresponding amendment to the main articles of association, with regard to the coat of arms. Outside the district's administrative operations, the coat of arms may only be used subject to consent. To obtain it, an application must be sent to the administrative head of the district, as chair of the district committee. This organisational unit then decides about its use.
back